Welcome to Dr. Michael Brodsky and Associates
The Leading Eye Doctor Near Allentown & Bethlehem, PA.
Dr. Michael Brodsky and Associates provide quality eye care and eye exams in Whitehall, PA, and serve the Lehigh Valley area of Allentown, PA. We handle everything from eye exams and hard-to-fit contact lenses, to computer vision problems, specialty lenses and the management of eye disease.
Located in the LensCrafters in Lehigh Valley Mall, eye doctors Brodsky, Newcomer, and Gerges know that getting the right prescription involves balancing several factors, including clear eyesight, visual efficiency and your ability to seamlessly process visual information. We believe in looking at the big picture when it comes to your eye health, so we take the time to get to know you, your eye care history and your vision needs. We take pride in building lasting relationships with our patients from the Lehigh Valley communities of Whitehall, Bethlehem, and Allentown.
Whether or not you wear contacts lenses, and even if your vision is sharp, it's important to schedule regular eye exams with our optometrist. So whether you need a routine eye examination, or treatment for eye disease, such as glaucoma or macular degeneration, or eye surgery, such as LASIK or cataract surgery, our Whitehall optometrists will provide you with the best eye & vision care, advice, and continuing care and follow up.
Our Patients Say It Best!
I hadn't been to the eye doctor in 5 years. And they took care of me 100%. It's really nice to be able to see clearly once again....
Need An Appointment? Leave Your Details & We'll Call You Back!
Using Clarifye and Optos Retinal Imaging, our optometrists are able to map the unique "fingerprint" of your eyes with digital precision, to pinpoint the prescription you need to see your best. We can also diagnose Glaucoma, Cataracts and Macular Degeneration and identify various systemic disorders like diabetes, hypertension and high cholesterol.
Have you been told that contact lenses will never ever fit your eyes? Our office specializes in difficult-to-fit contact lenses. We have experts in medical contact lens fitting who specialize in rigid gas permeable contact lenses, and scleral contact lenses. We also have the most newly released contact lenses on the market. Make an appointment todayfor an exam and fitting.
Dr. Michael Brodsky and Associates have years of experience treating patients suffering from Dry Eye Syndrome. Your tears comfort your eyes in many ways. Dry eye strikes when your eyes can't produce enough tears for lubrication or the moisture in your tears evaporates too quickly. If you suffer from any of the symptoms come straight in for treatment and relief!
Early detection and aggressive treatment of dry eye syndrome may help prevent corneal degeneration and scarring. The frequency of your follow-up care depends on the severity of the signs and symptoms. Dry eye syndrome in its mildest form consists of the vague complaints of burning, watering and fluctuation of vision. If you believe you are suffering from dry eye syndrome, make an appointment today. Read More
Complete Eye Care Services in Whitehall, PA
Why Choose Us?
Advanced Technology: We provide every patient with Clarifye – a digital state-of-the-art exam that cannot be found in any other optometric office in the area. With this technology we are not only able to be extremely precise in determining your glasses and contact lens prescription, we are also able to personalize your prescriptions to your precise needs.
Experience and Expertise: Our eye doctors specialize in diagnosing and monitoring an array of different medical issues including but not limited to: Glaucoma, Macular degeneration, diabetic retinopathy, blepharitis, chalazion, and allergic conjunctivitis.
Contact Lens Specialists: Our office specializes in difficult-to-fit contact lenses. We have experts in medical contact lens fitting who specialize in rigid gas permeable contact lenses, and scleral contact lenses. We also have the most newly released contact lenses on the market.
Q&A with Dr. B
Dr. Brodsky Answers Your Eyecare Questions
Why Does My Eye Twitch?
Stress: While we're all under stress at times, our bodies react in different ways. Eye twitching can be one sign of stress, especially when it is related to vision problems such as eyestrain . Reducing the cause of the stress can help make the twitching stop.
Tiredness: A lack of sleep can trigger eyelid spasms.
Eye strain: you may need glasses or a change of glasses. Your eyes may be working too hard.
Caffeine and alcohol: Many experts believe that too much caffeine and/or alcohol can trigger eye twitching.
Dry eyes: More than half of the older population experiences dry eyes. Dry eyes also are very common for people who use computers, take certain medications like antihistamines and antidepressants.
Allergies: People with allergies can have itching, swelling and watery eyes. When the eyes are rubbed it releases histamine into the lid tissues and the tears. This is significant, because some evidence indicates that histamine can cause eyelid twitching.
Clarifye
The Digital Exam That Shows You More
It's the new way to get your eyes checked. Clarifye pinpoints your prescription and gives your doctor a new level of specific detail, all digitally. Your eye exam just got easier. Let James Corden show you just how much easier! Click here to learn more.
Convenient Location Serving Allentown, PA
With our conveniently located eye care office in Whitehall inside the LensCrafters in Lehigh Valley Mall, Dr. Michael Brodsky and Associates has been serving Pennsylvania's Lehigh communities for more than 25 years.
We regularly see eye care patients optometrist's office because they know we provide top quality service.
Schedule an appointment with one of our optometrists to see how we can help you get the best prescription for your eyes.
Tips for Coping With Eye Allergies
Allergies can go from mildly uncomfortable to debilitating. Knowing how to alleviate symptoms and reduce exposure can greatly improve your comfort and quality of life, particularly during allergy season which can last from April until October. Learn More
Clarifye: The Digital Eye Exam That Shows You More.
Dr. Michael Brodsky and Associates is proud to provide the new Clarifye! This multi-faceted advanced technology provides the most accurate, patient-friendly eye exam available. Our patients from the Lehigh Valley communities of Whitehall, Bethlehem, and Allentown get the most advanced eye exam available today. Designed to be integrated with Lenscrafters Accufit system and digitally created eyeglass prescriptions, this new advanced eye care is extraordinary.
Read more about Clarifye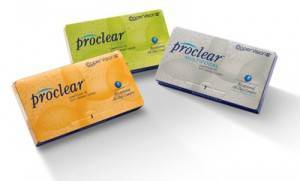 Optovue iVue SD-OCT
We added the Optovue iVue SD-OCT (Spectral Domain – Optical Coherence Tomography) to provide our patients with the most complete eye exam possible. The iWellnessExam is fast, easy, and comfortable for patients of all ages and gives your doctor valuable information about the health of your eyes and your most precious gift – your sight. Learn More
Check Out Our Blog Postings
Jun 19, 2017
It's National Cataract Awareness Month According to the World Health Organization, cataracts are responsible for 51% of cases of blindness worldwide - although this blindness is preventable with treatment. In fact, research shows that in industrialized countries about 50% of individuals over the age of 70 have had a cataract in at least one eye. This is partially because cataracts are a natural part of the aging process of the eye, so as people in general live longer, the incidence of cataracts continue to increase. What are Cataracts? Cataracts occur when the natural lens in the eye begins to cloud, causing blurred vision that progressively gets worse. In addition to age, cataracts can be caused or accelerated by a number of factors including physical trauma or injury to the eye, poor nutrition, smoking, diabetes, certain medications (such as corticosteroids), long-term exposure to radiation and certain eye conditions such as uveitis....
Read More
May 28, 2017
You Don't Have to Live With Dry Eyes Have you noticed that your eyes feel chronically dry, itchy, scratchy or even sometimes watery? Many people that have these symptoms just go on with their lives until the symptoms become unbearable. What they don't realize is that these are signs that they might be suffering from dry eye syndrome, a condition in which the eyes are not able to produce enough tears to effectively lubricate the eyes. This is a problem that won't just go away on its own. What causes Dry Eye? Dry Eye Syndrome, also known as Tear Film Dysfunction is characterized by a reduction in the amount or quality of tears that are produced. Tears are essential for optimal eye health, vision and comfort. Ideally, tear film covers the eyes at all times to prevent the eyes from drying out and to ensure clear vision. If the glands...
Read More
May 10, 2017
Eye Doctors Weigh In: How Smoking Can Harm Your Vision & Eye Health We all know that smoking is bad for you, especially the risks that it poses to your heart and lungs. What many people do not know is that cigarette smoke negatively affects your eyes and vision too. As our eye doctor can explain during your next eye exam, smoking has been directly linked to an increase in the risks of both cataracts and macular degeneration, two leading causes of vision loss, and it is believed to be a factor in a number of other eye and vision issues. Smoking and Cataracts Studies show that smoking doubles the risk of cataracts and with heavy smoking, the risk triples. In fact, there seems to be a direct correlation between the amount of smoking and the likelihood of cataracts. Cataracts are characterised by the clouding of the lens of the eye and...
Read More
Monday:

10:00 AM - 7:00 PM

Tuesday:

10:00 AM - 7:00 PM

Wednesday:

10:00 AM - 7:00 PM

Thursday:

10:00 AM - 7:00 PM

Friday:

10:00 AM - 7:00 PM

Saturday:

10:00 AM - 7:00 PM

Sunday:

11:00 AM - 4:00 PM